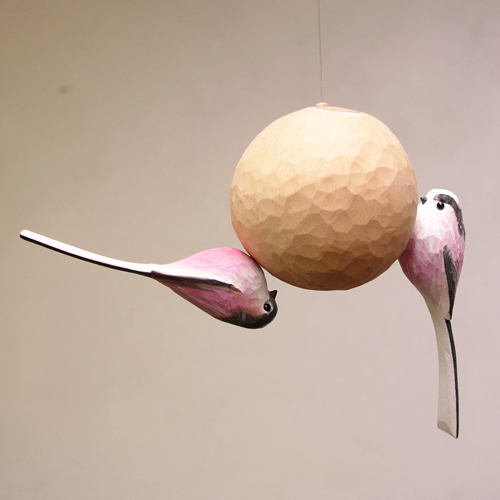 *Prices shown maybe subject to change
+Work shown may not be in stock, please contact us to confirm availability
Nick Hunter
Sculptor
Nick Hunter is a talented wood carver and painter with many years experience. He has a studio on the beautiful north edge of Sheffield.

Most of the day to day work he undertakes is traditional decorative carving on furniture and architecture as well as hand-cut lettering. He works mostly on carving projects on his own but should it be required, he collaborates closely with local furniture makers, restorers and gilders and other workers in related crafts.
Nick's personal carvings usually depict real or imagined creatures. Often the pieces are imbued with humour. Sometimes this is overt and at other times it is quite subtle and understated. Always sensitive and skilfully crafted Nick's work will offer pleasure to the viewer for many years.

Recently he has begun making intimate sensitively carved tiny birds on beautifully selected blocks of burr elm. Blue tits, gold crests, tree creepers and wagtails make up the current range, but I am sure more will be added soon.

In his own words:
"I carve and paint each bird by hand. No two are the same. They are limited in the sense that for my own sake as well as yours, I won't churn them out. I carve them freshly and spontaneously while paying attention to the basics of anatomy before I paint each one as if it is a watercolour on wood."