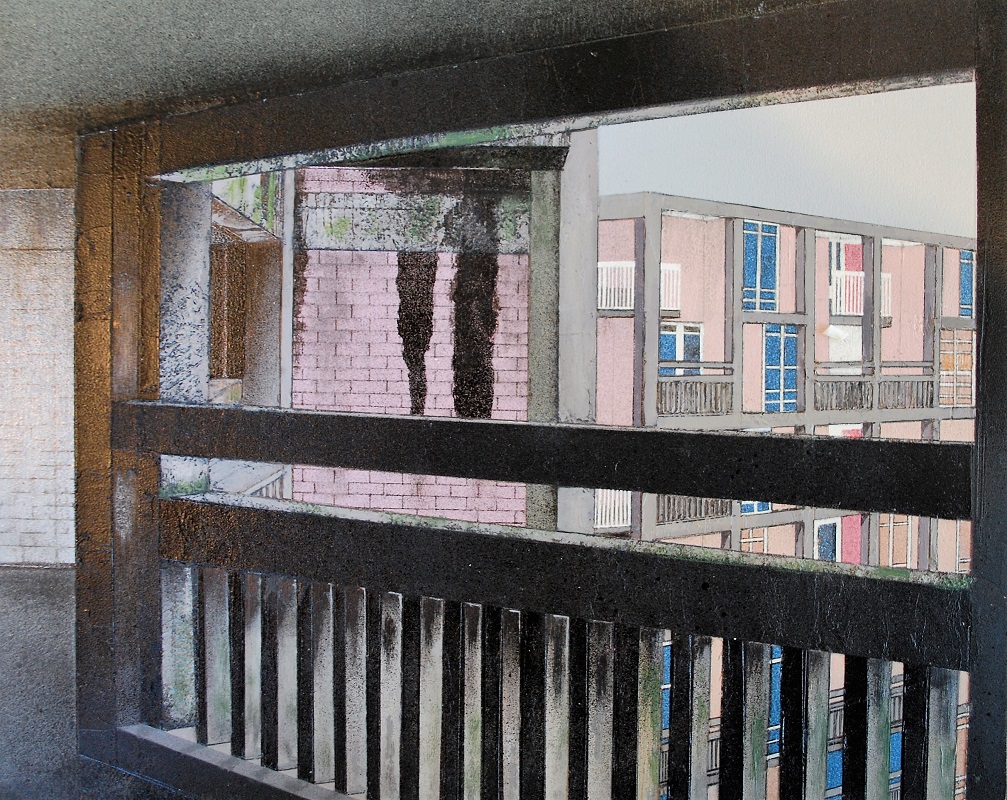 *Prices shown maybe subject to change
+Work shown may not be in stock, please contact us to confirm availability
Statement:
For the past 2 years I have been exploring Park Hill in Sheffield, the Grade II* listed council estate and one of Britain's largest examples of Brutalist architecture. The site is currently undergoing regeneration, part has been transformed into luxury flats, whilst part remains boarded up and derelict. The remainder is still inhabited, the residents remaining resolutely on site until finally decanted.
I am ever drawn to the site's un-refurbished parts, where memories and layers of the past are almost tangible.

I wanted to create observational paintings that spoke of the desolation and displacement of the established communities and temporality of urban landscape.

I have been working with materials integral to the estate itself namely concrete and aerosol spray paints, aluminium and found objects.

Concrete has been the constant material in my process, I have incorporated it into my paint to create texture and have cast up blocks of it to work on as a substrate. In this latter method I have sprayed on aerosol paints using masking tapes to create the image (photo of the process attached). Concrete is an interesting material to work on as it can be sanded back and abraded and has interesting haptic qualities.
CV
Born 1964 - Pontypool.
Raised in Bradford
Based in Sheffield.
Education
2011 - 2013 BA (Hons) Fine Art (First Class), Nottingham University
2007 - 2010 HND Fine Art, Sheffield College
1992- 1995 MDentSci University of Leeds (Paediatric Dentistry)
1982 - 1986 BDS University of Manchester (Dentistry)
Awards
Elizabeth Greenshields Foundation Grant, 2015
Arts Council Funding, 2015
2 Year Fellowship in Stone Lithography , Leicester Print Workshop
Valeria Sykes Award (Main Prize) New Light Arts Prize, 2015
Prize Winner John Moores Painting Prize, 2014
Runner Up John Ruskin Prize, 2014 (Painting acquired for Ruskin collection, Millennium
Gallery Sheffield)
Judges Prize, Harley Open Exhibition, (2013), Harley Gallery, Welbeck Estate, S80, 3LW
Emerging Artist Award, (2012), South Yorkshire Open, Cooper Gallery, Barnsley
Solo Exhibitions
2014 - 'Between Places and Spaces' – Tarpey Gallery, Castle Donnington, *
2016 (Forthcoming – March) – 'Betwixt and Between', Cupola Gallery, Sheffield*
Selected Group Exhibitions
2015 - New Light Arts Prize, Bowes Museum,Barnard Castle, Mercer Gallery, Harrogate and
Panter and Hall, London*
National Open Arts Exhibition, Royal College of Art, London
Royal Academy, Summer Exhibition, Burlington House, Piccadilly, London *
'Overlooked', Scottish Queen, Park Hill, Sheffield*
2014 - John Moores Painting Prize, Walker Art Gallery, Liverpool *
John Ruskin Prize Exhibition, 'Recording Britain Now', Millennium Galleries,
Sheffield*
National Open Art Competition, Somerset House, London
Royal Academy, Summer Exhibition, Burlington House, Piccadilly, London*
'Picturing Sheffield', Millennium Gallery, Sheffield
2013 -Threadneedle Prize For Painting and Sculpture, Mall Galleries, London *
Degree Show, Djanogly Gallery, Nottingham
Harley Open Exhibition, Harley Gallery, Worksop*
2012 Derby City Open, Derby Museum and Art Gallery, Derby
South Yorkshire Open, Cooper Gallery, Barnsley
Residencies
July 2013- Poly- Technic Summer School – SOAR Works, Sheffield
2015-2017 – Fellow in Stone Lithography, Leicester Print Workshop
2015-2016 – Graduate Resident at Nottingham University, Department of Fine Art
Mandy Payne
Painter.
Mandy Payne is a multi award winning recent graduate from Nottingham University who currently lives and works in Sheffield.

Review - Guardian. May 2014
Mandy Payne

Sheffield's Grade II*-listed Park Hill flats are in the process of being reassessed as a modernist treasure. Yet, as the concrete blocks await gentrification, there is the danger of their brutalist grandeur being aesthetically dissolved. The Sheffield-based artist Mandy Payne recognises this in Between Places And Spaces, a series of unforgiving paintings of the flats. Payne often paints directly with aerosols on to concrete. Her compositions - bold arrangements of blank-faced geometric walls, empty windows and deserted walkways - similarly pull no pictorial punches.
RC
Visit Cupola Gallery for more details or contact:
174-178a
Middlewood Road, Hillsborough, Sheffield,
S6 1TD
Tel. (0114) 285 2665
Opening Times Mon - Sat 10-6